OUR NEXT LIVE ON SITE, ON PREMISE SALE
SEPTEMBER 23-24-25
COW COUNTRY CLASSIC CATALOG SALE
Featuring our FALL ROPE HORSE SPECIAL & ALL AROUND PERFORMANCE HORSES - ALSO INCLUDED is our popular LIVE Show Case Internet Session

ALL SEPTEMBER 23-24-25 SALE HORSES WILL BE AUCTIONED LIVE AT BILLINGS LIVESTOCK - Internet bidding also available for ShowCase Internet Sale Session horses offered in this sale

FRIDAY: 9 a.m. Special Indoor Preview - Horse Palace Arena Exit 437 on I-90 Order of Preview: Barrels, Poles, Cutting & Saddle/Ride/Reiners
FRIDAY: TEAM Roping Jackpot On Sale Horses HORSEPALACE Arena Exit 437 on I-90 FOLLOWS:
Enter at 10 a.m. Rope at 12 Noon
Pick one, draw two, two go arounds and a top 12 Finals!
FRIDAY 6 p.m. SALE TIME ON CATALOG HORSES - Billings Livestock Sale Ring

SATURDAY: 8:30 a.m. Cutting Horses Preview BLS Outdoor Arena - Saddle & Ride Demonstration follows
11-11:45 a.m Roping Horse Preview Loose Horses Sell
8:30 a.m BLS Outdoor Arena - Preview of Cutting Horses, Saddle & Ride Horses Rope Horse Preview approx. 11 a.m.
SATURDAY 12 NOON: SALE TIME ON CATALOG HORSES

SUNDAY: 8 a.m. Cowboy Church BLS Sale Arena
9 a.m. Loose Horses Sell (LOOSE HORSES SELL SUNDAY ONLY IN SEPTEMBER)
10 a.m. Preview BLS Outdoor Arena
SUNDAY 12 Noon SALE TIME ON CATALOG HORSES

ROPE, RIDE, RANCH or RECREATE, these sales will have it all.
All classes of horses sell including mares, geldings, stallions, prospects and young stock.
This sale is stuffed FULL of good horses. Come see us.
NOTICE: Consignors as of April 1, 2017 all catalog/supplement horses (any horse being lead or ridden through the arena) are required to have a current EIA (coggins) test. Including babies being sold on the side. This includes horses from the State of Montana.
Call us 406-245-4151 or email us at info@billingslivestock.com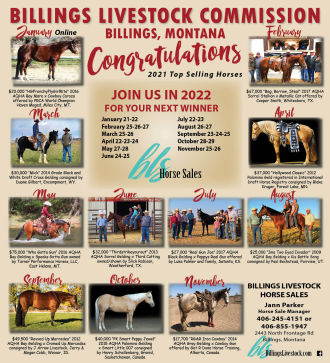 ALL HORSES ARE LOCATED AT BILLINGS LIVESTOCK


Instructions for OUR NEXT ONLINE~ON SITE CATALOG SALE
September 23-24-25 Buyer sign-up HERE: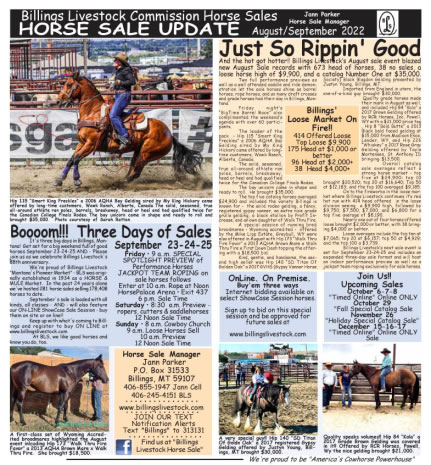 CLICK HERE FOR HORSE SALE UPDATE
CLICK HERE TO VIEW AUGUST 2022 TOP 20 SALE RESULTS
#cowboyslivehere - #thisisBLS - #goodhorses
BLS Horse Sale Market Report - July 2022
ROPE, RIDE, RANCH or RECREATE, these sales will have it all!
Catalog is open to all classes and will offer arena horses, rope horses,
ranch and using horses, prospects, mares, stallions, ponies, and young stock!
Please note that as of August 1, 2019
Billings Livestock will no longer be offering the
OPEN CONSIGNMENT portion of our sales.
This sale is stuffed FULL of good horses. Come see us.
Call us 406-245-4151 or email us at info@billingslivestock.com
Text the word Billings to 313131 to receive our latest text notifications